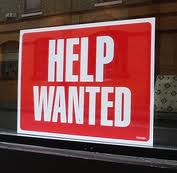 TechServe Alliance released its IT Employment Index figures for March 2012 this week, showing that IT employment has reached an all-time high and that the demand for IT talent, which has been growing steadily for some time, remains strong. Recently, the SIA reported on a Teksystems' survey that reported 37% of IT Leaders expect to increase temporary hiring. An annual Harris Interactive/CareerBuilder survey found 54% of employers indicated plans to hire college graduates this year with 25% of them saying they have Information Technology jobs to fill. Finally, there seems to be a new skill or IT job each week that is experiencing talent shortages and this article from WANTED Analytics about cyber security concerns and computer security specialists is a good example.
It seems that the economic recovery will be on a slow, but hopefully steady path to improvement. While the overall employment numbers experience periodic slumps, it is clear that the technology industry as a whole is recovering ahead of the pack and looking for people, with vigor. This matches what we're seeing at ATR, where our clients are busier than ever and looking for talented IT contractors. Of course not all skills are as in demand as others; employers are looking for specific abilities and experience. I thought a quick review of information on some of the hottest jobs in IT would be appropriate and helpful to both IT hiring managers and contractors. These are the areas where those hiring can expect to pay more going forward and where IT contractors should consider focusing their efforts to take advantage of the high demand. I've gathered several articles that provide various ideas on what's hot, what's trending, and what's to come for IT in 2012:
9 hot IT skills for 2012 from Computerworld
6 Hot IT Jobs That Will Pay Well in 2012 from CIO online
2012 Technology Jobs Outlook from Monster
The 6 Hottest Tech Careers of 2012 (with advice on how to get one of them!)
Best Paying IT Security Jobs In 2012 from Information Week
Hot Tech Projects: Windows 7 Upgrades, Legacy Data Migration, and More
What's important about all of this information isn't whether software developers, programmers or mobile app developers are ranked #1 or whether everyone agrees on how hot IT security is (they don't). What's important is that together, it all paints a pretty accurate picture of what employers are and will be looking for in IT employees. It also shows IT contractors a possible path to maximize their careers and earning potential by moving into the disciplines that employers really value. If you already have these skills, you may be in an enviable position; don't be discouraged by generalized news reports or political commentary on the economy or unemployment. Pay attention to what's going on in IT because it's a very different story. Now may be the perfect time for you to explore a change. If you are wondering what direction to go in and how to take the next step in your career this information can give you some great ideas and guide any training or educational decisions you might make.
Whether you know exactly what you want or aren't sure exactly how your skills and experience fit into the current IT landscape, give one of our recruiters a call. We're specially trained to assess your skills and have years of experience in matching highly skilled IT professionals to the right opportunity. We're happy to provide the advice and assistance you need to help you find the right opportunity!
Jerry Brenholz
President and CEO
{{cta('d88ea250-6bc2-4cb5-bc6e-3b54834e93eb')}}
Download: 6 Things You Can Do to Dramatically Increase IT Contractor Retention
{{cta('e11d1ea4-47ed-4779-a21b-1dfc4b7802f4')}}