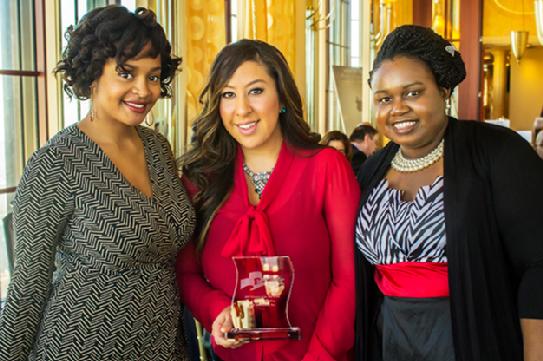 Recently, I attended the Western Region Minority Supplier Development Council's (MSDC) Annual Holiday Luncheon for a very special reason: I was there to see our Corporate Diversity Manager, Angelique Solorio, receive their Volunteer of the Year award. I may be biased, but it couldn't have gone to a more deserving person!
I know how diligent and dedicated Angelique is because I work with her every day, so it was a treat to see that others recognize her talent and hard work as well. ATR International celebrated 25 years in business this past September, so I consider us somewhat of a "senior" company in the MBE community. We've benefitted from the advice and assistance of other MBE's and corporate diversity professionals, especially as a fledgling enterprise. It's important to me that we give back and provide the same so it was especially nice to hear at the luncheon that Angelique "constantly enriches the lives of both our MBEs and Corporate Sponsors." Sharing knowledge by facilitating communication and discussion is part of Angelique's mission, her actual job description at ATR, so it was gratifying to see that she is accomplishing that not just within the parameters of our company but in the broader community as well. I can also tell you that it was no surprise to hear her described as "resourceful," "giving," and "the kind of person who takes initiative and doesn't mind working or getting her hands dirty." I see it all the time!
ATR has a strong commitment to supporting volunteer efforts in our communities. It's an important responsibility that we all share on both an individual and professional level. We have a program in place that offersour employees 5 days a year (or the hourly equivalent) to take off in order to volunteer; go for a week to build a house with Habitat for Humanity or read to children at your local library once a week, whatever is important to you. There are also opportunities like our support of the NMSDC and its regional councils where the "volunteering" is part of the job, acting as a representative of ATR within the business community.
Angelique is just one example of the people of ATR and the tremendous enthusiasm and skill that they bring – whether it is volunteering for their favorite charity or through their everyday responsibilities at the company. I want to recognize and congratulate her on this award because she deserves it but I also want to remind everyone of the importance of volunteering on all levels and in all areas. Without the efforts of people like Angelique many worthy civic, business and charitable organizations simply wouldn't be able to operate. I can't think of a better way to ring in the New Year than by saying thank you to Angelique and all the other "volunteers" in the world for making it a better place for us all!
Happy New Year everyone!
Jerry Brenholz
President and CEO
ATR International
{{cta('88c81cd7-4b86-4b84-8e07-dfaddcb85997′)}}