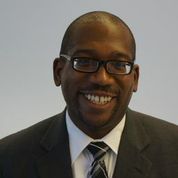 This week we turn our Corporate Spotlight on L. Jay Burks, PhD. I met Jay over a year or so ago. He's been a great resource for me, and I think you'll all benefit from learning more about Jay and his work. Jay is currently the Manager of Supplier Diversity at the Comcast Corporation, with numerous responsibilities including, of course, increasing procurement opportunities for diverse businesses.
Prior to joining Comcast, he served for over five years as Executive Director of the State of Delaware's Office of Supplier Diversity. His responsibilities were similar to his role at Comcast, but were executed for the State of Delaware contracting opportunities. Jay has been involved with many organizations throughout his career, supporting them in a variety of ways. From national organizations like the NMSDC,WBENC, and the National Association for Multi-Ethnicity in Communications (NAMIC), to state and local groups such as the Associated Builders and Contractors of Delaware Diversity Committee and the State of Delaware's Small Business Advisory Committee. Jay is a tireless supporter of those who share his passion for business and commitment to empowering diverse companies and their owners. His most recent role is on the Corporate Advisory Board for the US Business Leadership Network (USBLN).
Obviously Jay has extensive experience in numerous roles, but his biggest passion remains higher education, for himself and for others. He received a Bachelor's degree in Business Administration from Morehouse College, a Master of Business Administration from the WP Carey School of Business at Arizona State University, and a PhD from the University of Maryland, Eastern Shore.
His passion for diversity issues and education come together in his PhD dissertation. The title, "Examining the Relationships between Entrepreneurial Orientation, Procedural Justice, and Entrepreneurial Leadership with the Reward and Performance Expectancies of Minority and Women-Owned Businesses in Government Contracting," shows the relevance of his research and findings to those of us working in the diversity and inclusion community. You can read the full report in the "Education" section of his LinkedIn profile but I am going to try and succinctly summarize one of his findings.
Dr. Burks' research found that there is a statistically significant relationship between procedural justice, entrepreneurial leadership and expectancies. For example, if a diverse-owned business thinks that the selection process is unfair they will be less likely to participate, which makes sense. Why would a business person spend time on something that doesn't seem to promise a decent ROI? Whether or not the process is actually fair is part of the equation too. Both the reality and perception of fairness needs to be changed in order to achieve higher levels of diverse-owned business participation. The findings will be useful in developing effective supplier diversity policies and procedures, which as a result can have an important impact on minority-owned and women-owned businesses' involvement in economic growth.
There isn't a lot of research in this area, so his study is useful and important in that sense alone, but he also concludes with recommendations on what these results suggest might be done to improve expectancies and participation in government contracting. These include improving transparency, increasing education and assistance, and standardizing the procurement process and procedures. It might involve better marketing to ensure that diverse-owned suppliers understand the process and how they will be evaluated. It can also mean removing conundrums like "needing government experience" to be hired for any contract, but having no way of getting government experience.
Again, this is a very brief overview of one of the components, and I'm sure I've not really done it justice. PLEASE read the original. You can connect with Jay if you have questions or comments about his work. He is on LinkedIn and Twitter to share knowledge, opportunities, and successes. He also recommends utilizing free help such as Hootsuite and Google alerts for the latest developments. Jay is a great example of the diversity of our community and the strength that comes from differing viewpoints, backgrounds, skills and experience. Thanks for sharing with all of us Jay!
Angelique Solorio
Corporate Outreach Manager
ATR International
{{cta('88c81cd7-4b86-4b84-8e07-dfaddcb85997′)}}