This week most of us will take a well-earned break to gather with family and friends to give thanks for our many blessings. I'd like to first acknowledge and thank those who will not be relaxing on Thursday but will instead be on the job – our military personnel, police, fire and other safety workers, and those providing care and respite to patients in health care facilities. I also want to take this opportunity to thank my employees for their hard work throughout the year. ATR is successful only because of the many individuals who work together to serve our clients. I am thankful and privileged to work with such dedicated colleagues.
Their hard work is not confined to their responsibilities on the job either; my colleagues are committed and generous with their time and money on behalf of numerous charitable endeavors. Today, in the spirit of the holiday season, I'd like to highlight one of ATR's most successful fund raising efforts – the Leukemia and Lymphoma Society's Light The Night Walk. Over the next few weeks, I will highlight other ways that ATR employees have made a difference in our communities this past year. Primarily I want to thank them and recognize their efforts, but if it inspires someone else along the way, all the better!
Light The Night is one of the Leukemia and Lymphoma Society's premier fund raising events. Families, friends, individuals, and co-workers – anyone can participate! – work in teams to raise funds that bring help and hope to people battling blood cancers. The money raised provides lifesaving research as well as programs and educational materials that support both patients and their families. The campaign lasts more than a month, with a variety of fund raising events and opportunities, and culminates with the inspirational evening walk, where people carry illuminated balloons – white for survivors, red for supporters and gold in memory of loved ones lost to cancer.
ATR was part of the San Jose walk held on Saturday October 22, 2011 in Arena Green Park. It was a beautiful evening, filled with reflection, celebration and hope. This is the third year that ATR has participated, joining with other business teams for some friendly competition as part of the LTN Corporate Cup Challenge. Each year we have placed first in our division, including this year with $21,678. ATR employees raised this amazing amount in several ways:
For a $10 contribution, people attended the kick-off lunch. Much thanks to our local Olive Garden for donating the delicious food!
The committee organized an ice cream social one afternoon. For a $6 contribution you could get all the toppings you wanted!
Raffles for prizes that included sports tickets and WII game packs raised additional funds.
Vouchers that allowed employees to "go casual" on days other than Friday, or leave work an hour early without using vacation time were a very popular item!
Finally, many chose to donate a portion of their vacation time, with the dollar equivalent going to Light The Night fund.
I hope you can tell how proud I am! I believe in the importance of giving back and as the president and owner of a successful business I can, and do, make decisions about ATR's charitable contributions as part of our Corporate Responsibility Program. But this isn't the company's money or time; over the last three years the individual employees of ATR have donated more than $65,000. They may have received a bowl of ice cream or the chance to wear jeans in exchange, but believe me that is not their primary motivation. I am so thankful for their generosity of time, money and spirit. The picture below shows a few, accepting an award from the LLS that was earned by many!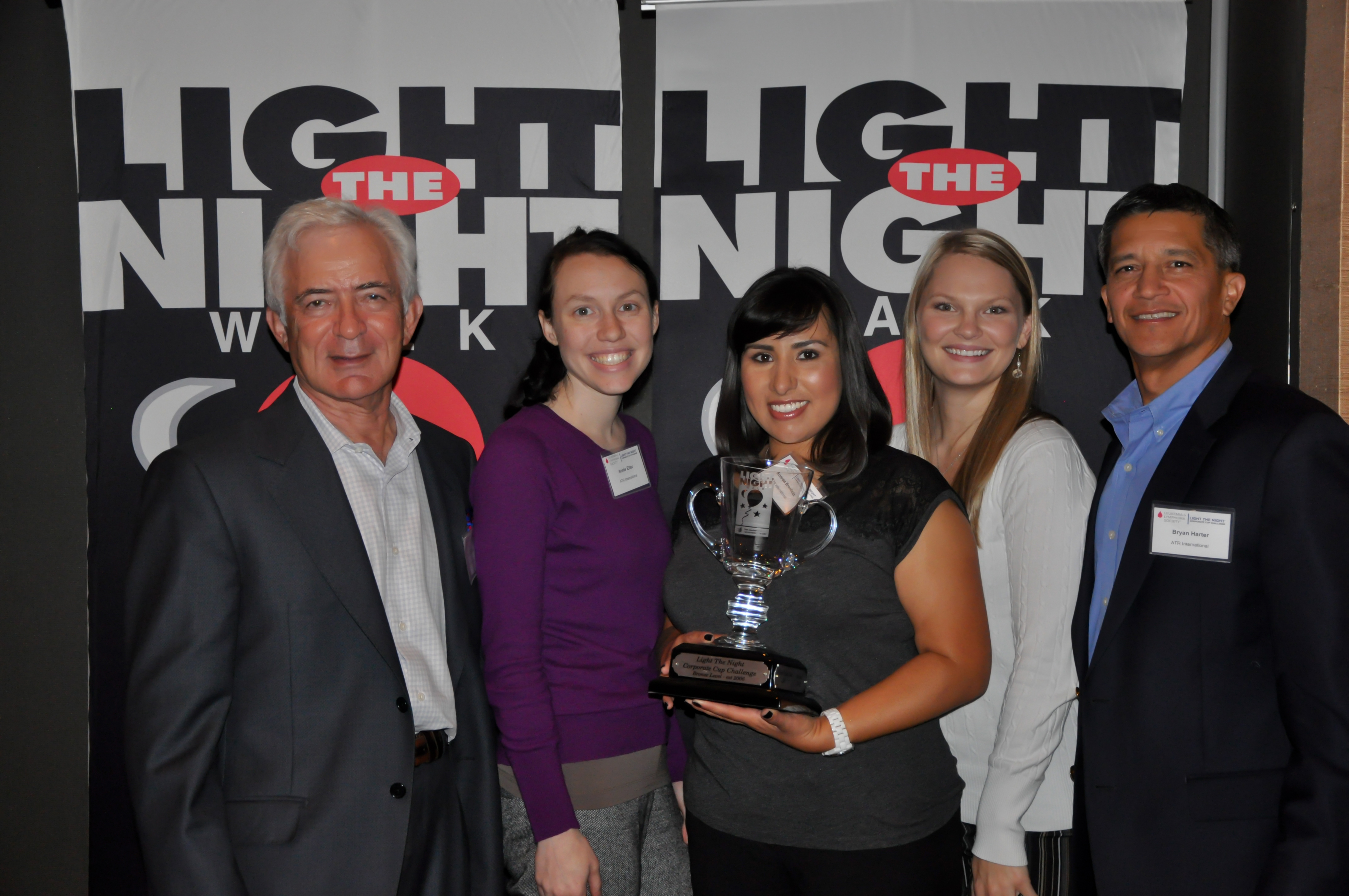 Please also check out our Facebook page for pictures from the walk itself.
Thank you, readers, for indulging me and listening to me crow a little about my great staff! I hope this bit of good news brings a smile to your day. I wish you all a safe and happy Thanksgiving holiday!
Jerry Brenholz
{{cta('d88ea250-6bc2-4cb5-bc6e-3b54834e93eb')}}