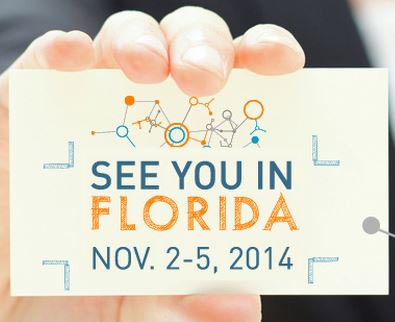 On November 2-5 in Orlando, FL, the NMSDC will be holding its 2014 Conference and Business Opportunity Fair. The conference attracts corporate leaders, procurement executives and supplier diversity professionals from top multinational companies, as well as leading MBE owners and international organizations. There are great workshops and keynote speeches as well as the opportunity to network and meet people.
It's a commitment of both time and money to attend any conference. All businesses wish they had more of both but small businesses, like many MBEs, are especially careful about spending. Each expenditure is an investment that must have a solid ROI. Office supplies or phone and data services more easily demonstrate their importance and it can be tempting to see it as a luxury and discount the benefits of attending industry conferences.
If you didn't get a contract with the companies you wanted to after the first time you attend, you may find yourself thinking "why go back?" Don't make the mistake of thinking this way! Understand that it takes time to develop a relationship, to really understand a company's needs and how your goods or services can help them. As an MBE you may need to grow and strengthen your company's offerings so that you are prepared to work with some of the larger global corporations. Also remember that moving from your first contact with a program manager to a sale is a process and annual attendance at the Opportunity Fair can be an important step in that process.
Recognize that the benefits of attendance are cumulative. Each year, you build on what you did and who you met last year. By this I mean:
Year One – The year of introduction. You spend your time getting the lay of the land so to speak. Which companies are there, where are the booths, how do the sessions and workshops apply to me and which I actually attend. You spend most of your time introducing yourself. Perhaps one of your clients is attending or another MBE owner that you know but many times first time attendees don't really know a lot of other people. That's the point of going – getting your company noticed and meeting people; connecting with buyers from companies that are looking for your product or service and beginning the process of getting to know each other.
Year Two – The year of reconnecting. This time you know what to do and who you want to see again. You should research and strategically target who you want to reconnect with and which companies you want to meet someone from for the first time. Don't waste time with every company and person. If you're smart, you've reached out to people you met last year to set up a meeting or let them know you'll be stopping by their booth. You'll use this conference to further the relationships you made last year. Of course a business opportunity can arise at any time, and one meeting at any given conference can result in something awesome. I'm all for that! But it's much more usual for it to take time, especially if you are trying to break into a large Fortune 500 company. There may be a wait before they add suppliers to their roster through an RFI or issue a specific RFP.
Year Three – The year of improving. The third time you attend, and each subsequent time, you're improving your relationships across the diversity community. You're reconnecting with clients, prospects, and fellow MBEs, people who you have met at past conferences, and perhaps have also seen or worked with throughout the year. You're cementing these relationships, but you're also developing new ones. Each year, the conference provides a chance to improve and deepen your relationship with the people you know. It also gives you the opportunity to meet new program managers and procurement professionals from companies that may not have been represented before or may not have needed your services until now.
Of course, reconnecting and improving your relationships will be much harder if you do nothing in between attending conferences. You need to stay in touch throughout the year by sharing thought leadership, connecting on social media, or some other appropriate way. If a company offers informational webinars or seminars, attend one. Learn more about the company and their supplier diversity program from their website and reach out with questions. Or share knowledge with them by sending an article or information they would like; be sure it's relevant though! Honestly, even if it is just to say hello with a holiday note, the important thing is – don't let contact drop until the next conference.
The point of annual attendance is to help take your relationships to the next level. Like a good friend, you can always learn something new that will deepen your connection and make you better able to serve them, whatever it is that your company does. As an MBE, don't underestimate the importance of the relationships you develop with other MBEs. They can be a great source of referrals, recommendations and references and can provide introductions to buyers you may want to know.
I'm giving this advice with the NMSDC in mind but it's really applicable to any conferences or events sponsored by industry organizations. If it's relevant to your business then the right people, the people you want to meet will be there. That's why you go. But going once isn't going to give you the best results. Repeat attendance, whether it's an annual conference, or a monthly luncheon seminar, means that you build better relationships. Better relationships are what lead to greater sales success and growth.
If you're on the fence about attending or need some reasons to justify the ROI, I hope this helped. I look forward to seeing you at the conference – be sure and look me up! I'll be there!
Angelique Solorio
Corporate Outreach Manager
ATR International
{{cta('7e895ab1-f4c7-45df-8e47-d753d61f2d40')}}