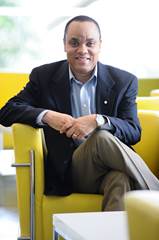 Congratulations to Brian Tippens, on his new role at HP as Chief Diversity Officer! Brian has been with HP for over 14 years, most recently as the Global Real Estate (GRE) Director of Energy, Sustainability and Integrated Facilities Management and before that as a member of the Global Procurement Executive Leadership Team, where he built a Supplier Diversity and Small Business program that ensures a globally inclusive supply chain, and helped design and implement HP's Strategic Supplier Development program which focuses on delivering new value from top suppliers through innovation and collaboration. HP has made a great choice!
I have admired Brian's drive and commitment since I met him while attending a WRMSDC workshop (formerly the NCMSDC). I was fortunate to hear him speak on Brand-Building for Individuals and Businesses. The topic is a passion of Brian's and it showed in his smart and enthusiastic presentation. Among other things, he talked about the benefits of growing your social media presence. Brian's advice was such a game changer for me! I hadn't really understood or been sure what value there was for me to venture onto Twitter until that day but his clear explanation of the benefits, and the story of how he initially built his following, changed my view.
Brian was smart enough to start using social media when it was fairly new. At the time, there were people losing their jobs because of unprofessional material they shared. As people adjusted to the unexpected consequences of using social media there were plenty of horror stories, making one wonder if it was better to not use it at all. But Brian thought there was a different kind of danger in that idea; was it possible to lose an opportunity from not even having a social media presence? How could things like Facebook and Twitter help rather than hurt?
One answer was in sharing information. Brian, (as I am sure we can all relate), gets tons of emails and updates in his inbox. He goes to numerous conferences around the world and meets lots of people. It's a good thing to receive information but so much of it wasn't pertinent to him at that moment and so he deleted them as most of us probably do. But then, one day, he thought about the fact that somewhere, and to someone, that information was probably valuable. So he decided to simply start to share the info and tweet it out. At that moment he became a valuable resource for his followers and the rest is history. He now has 30,000+ Twitter followers and is an outstanding example of what a truly giving social media guru is.
Brian's role at HP is just part of his presence in the diversity community. He has been committed to the goals of diversity and inclusion for his entire career. Brian grew up in a challenging neighborhood in West Oakland, CA, where his parents taught him to never give up, and worked hard to give him the opportunities of private school, a BS from the University of San Francisco, and then a JD from the McGeorge School of Law at the University of the Pacific in Sacramento.
As his career progressed, he felt that it was his calling to give back in part by choosing roles and a career path that allowed him to make a real difference in minority and communities of color. He also serves on numerous boards and supports many worthy organizations including Operation HOPE, California Disabled Veterans Business Alliance, The Latino Coalition, and the Shell Center for Sustainability at Rice University. He believes that he does well by doing good, but it is not purely about philanthropy; he's adding real corporate value and helping the corporation's bottom line while also assisting in the growth and development of small and minority owned businesses or working on sustainability initiatives that benefit our planet. Brian would certainly point out that doing the right thing and making profits are not mutually exclusive!
Brian confided that he sometimes wonders if he is naive at times to think that he can change the world but I'm here to assure him that he's not, and he already is, I'm proof of that, as are the many, many others that he touches in his professional and personal life!!
I'm bringing him to all of our readers' attentions because I know he can help many, if not all of you too. Brian was absolutely right, that Social Media should be included in your marketing strategy (can't thank you enough for helping me see this Mr. Tippens!). And he shares other useful and insightful advice about working and advancing within the diversity community as an individual or a business. He has years of experience in a variety of environments and disciplines that also give him a unique and valuable perspective on business issues overall that anyone can benefit from hearing.
There is no doubt in my mind HP has made an excellent decision and all of us at ATR wish him good luck this next stage in his journey. (Others agree – read this.) You can connect with and learn more about Brain on his website http://briantippens.com. If you are interested in attending one of his events in person, you can stay up to date on where he will be at http://briantippens.com/speaking/. Finally, follow him on Twitter at https://twitter.com/briantippens.
You'll be better off for doing so, I can promise that!
Angelique Solorio
Corporate Outreach Manager
ATR International
If you know a diversity professional we should spotlight or have a story of your own, please contact me at angeliques@atr1.com. Take a page from Brian's playbook and reach out to your network too! We love hearing about how people are making an impact in the diverse business community.
{{cta('88c81cd7-4b86-4b84-8e07-dfaddcb85997′)}}