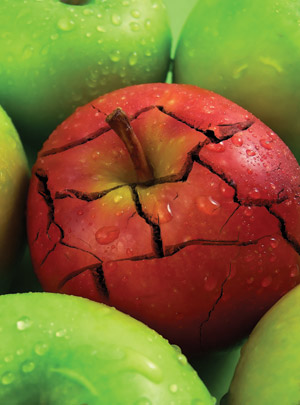 It sometimes seems as though there is no shortage of negative articles about the staffing industry. The online industry publication Staffing Talk ran The Associated Press takes on Temp Nation in July and it's just one of the latest casting the industry in a negative light. Much of the bad news comes from stories that rightfully expose the conditions that "day laborers" work in. Then there are the unfortunate workplace accidents that occur when training or safety is overlooked or rushed and you also read periodically about unscrupulous people running staffing firms that are just scams to prey on those looking for work. Finally there are the firms that knowingly or otherwise run afoul of rules and regulations, or are badly managed and go out of business seemingly overnight, leaving both clients and workers stunned and costing everyone money.
My firm specializes in placing IT Consultants, Engineers and other highly skilled consultants in temporary assignments. I tend to think that we are isolated from much of the bad behavior: the nature of the work, the clients and the consultants tend to discourage the worst stuff but recently I had an experience that surprised, and reminded me, that behavior that taints our industry can happen anywhere, anytime.
Here's the story:
We recruited a Software Engineer to work at a client of ours. The program is managed by an MSP and we are an approved vendor. The consultant seemed like a great fit and everyone was looking forward to his Monday start date. Imagine my recruiter's surprise when she received a call from the consultant saying he wouldn't be able to start. He explained that he had received a call from another staffing firm (also an approved vendor at the client) that he had previously been placed by (at another company, months before). That firm said he had an exclusive arrangement with them and couldn't work with us without violating it. If he took the position we had found for him they would sue him. He was worried enough to just walk away from the assignment rather than risk the potential of a law suit.
Fortunately my recruiter asked the right questions, listened carefully and involved the right people at ATR and our client. I didn't think what they were saying was really legal and it wasn't obvious whether this was some sort of company policy or just a rogue employee. I told the consultant that if in fact they did sue, we would take the responsibility for any related costs but that I didn't think it would come to that. Knowing our client and the MSP, I thought we could straighten things out. Conversations ensued between the various parties culminating in a call from the client to the other vendor. Our consultant started on Wednesday instead. No legal shenanigans necessary, just doing the right thing once the situation was understood. Potential legalities aside, I certainly felt the behavior wasn't ethical. But again, was it just one person or the representative of the firm? This consultant had sat unemployed for four months before we recruited him; it wasn't a case of luring him off of a current assignment.
What bothers me is how this made our industry look to both the client and the consultant. If he hadn't been so forthright we might never have known what happened and been able to fix it. We wouldn't have been able to show him another side of how the staffing industry works and how its members behave. What kind of an impression would it have left on him otherwise? How many people would he tell? Would that reinforce the stereotypes? What about the client? Does it cast all of their staffing suppliers in an unflattering light when one behaves badly? It's not just the fringe elements of our industry, but the wholly rotten apples that contribute to negative public opinion. Small instances of less than ethical behavior are damaging as well, perhaps more so since it can sometimes more easily remain hidden. We all have to be vigilant to counteract the negative views.
We may often think "that is not me" and "that is not how my firm operates" and it's true. I do think that. Certainly running an honest organization that operates within the law and treats both clients and workers with respect is the first and foremost way that we can strengthen the perception of our industry as a whole. But whatever your position – owner, recruiter, receptionist, accountant, etc. – we all have a role to play in ensuring that our industry deserves a good reputation and isn't defined by the bad apples. Just as one person may have set this rather negative episode in motion, one person can counteract it. Responsible industry members should speak out against the minority that skirt laws and regulations, treat workers poorly and give all of us a collective black eye.
If you want some good talking points to arm yourself with check out a prior Staffing 360 post 6 Common Myths About Temporary Staffing and Staffing Talk's excellent article The Story No One Hears About Staffing. Overall our industry is made up of companies with hardworking honest people doing good work that contributes to the success of thousands of businesses and the continued growth of our economy overall. Let's all do our part to ensure it stays that way and that the public knows the true story about the staffing industry and the benefits to everyone of a variety of workforce models, including temporary staffing.
Jerry Brenholz
President and CEO
ATR International
Looking for great staffing suppliers for your program? Download our eGuide now!
{{cta('97e21d9d-839d-4f26-bfab-92608755652a')}}