ATR's VTO, or Voluntary Time Off, program gives each internal ATR employee 5 paid days each year that they can use to work at a charitable organization(s) of their choosing. This week we are focusing on Angelique Solorio and her work providing food for the underprivileged.
VTO Spotlight
For Angelique Solorio, changing lives is a way of life. Angelique sees the impact of unemployment on a daily basis, directing ATR job applicants through the application process that may land them a job that literally changes their lives. So during her four days of VTO, it was natural for Angelique to spend time volunteering at North County Community Services.
NCCS is a non-profit committed to providing programs that educate young children, support working families, provide food for those feeding the hungry and ultimately create opportunities to improve the quality of life for residents of their communities.
Angelique spent her time doing a wide range of things at the food bank including sorting food donations, organizing and stocking shelves, disposing of trash and molded food, breaking down boxes, packaging food boxes for families, along with organizing the freezer room.
"I chose to work at a food bank because working at ATR I meet many people who are unemployed and looking for work. I've seen how helping them can change their lives," said Angelique. "It's a great feeling to have such an impact."
Angelique plans to make her volunteer efforts a regular occurrence. "The reward I received from this experience was not a paycheck. It was something much more valuable, the smiles on the faces of the families in need. I am grateful for having the opportunity and I will continue to stay involved in the future"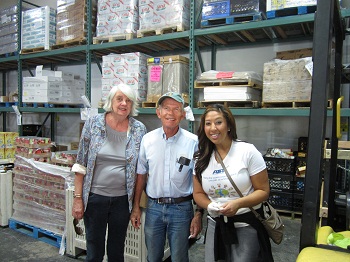 Thank you Angelique.