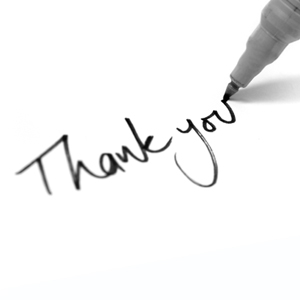 You just walked out of the building after a lengthy job interview and you are headed home. Your mind is replaying all of the questions you were asked and the answers you gave. Did they like you? Are you a good fit? All normal questions that each and every job candidate has. But the interview is over so now you just sit and wait, or do you? Absolutely not.
Interview follow up is a key part of the job search. Not everyone does it properly. And some don't do it at all, which is a big mistake. The interview follow up is another way to set you apart from your competition. So how is it done?
1. Keep track of every person you spoke with. Document their name, title, and what you spoke about. Write down some of their key concerns.
2. When you get home, start writing tailored email "thank-you's" for each person. Thank them for their time and make it clear that you listened to them, understood their needs and challenges, and let them know how you can help.
3. Send the emails that evening so that they are in the recipient's inbox in the morning. Always double check the spelling of the names and titles. Spell check the body of the email as well. A mistake here could be disastrous.
Click here to send us your resume. Our placement service is always free for job seekers.

4. An optional step is to create and send a detailed document outlining all of the issues the company is looking to address by hiring someone in this position. In the document make it clear what you would do to address those issues and the expected outcome. By doing this extra step it will give the interviewer(s) an idea of what they can expect if they hire you. Send this document by mail or email a day or two after the interview.
5. Follow up weekly. More than weekly can be annoying and seem desperate. Less often makes you seem uninterested.
6. Don't get discourage if the hiring process moves slower than you had expected. Hiring a new employee is a big decision for most companies and often requires input from multiple people.
There are lots of steps to landing a new job. And the interview follow up is a key one. Make sure you do it right.
Looking for a new job? Read: How to Optimize Your Job Search, A Comprehensive Guide for Every Job Seeker